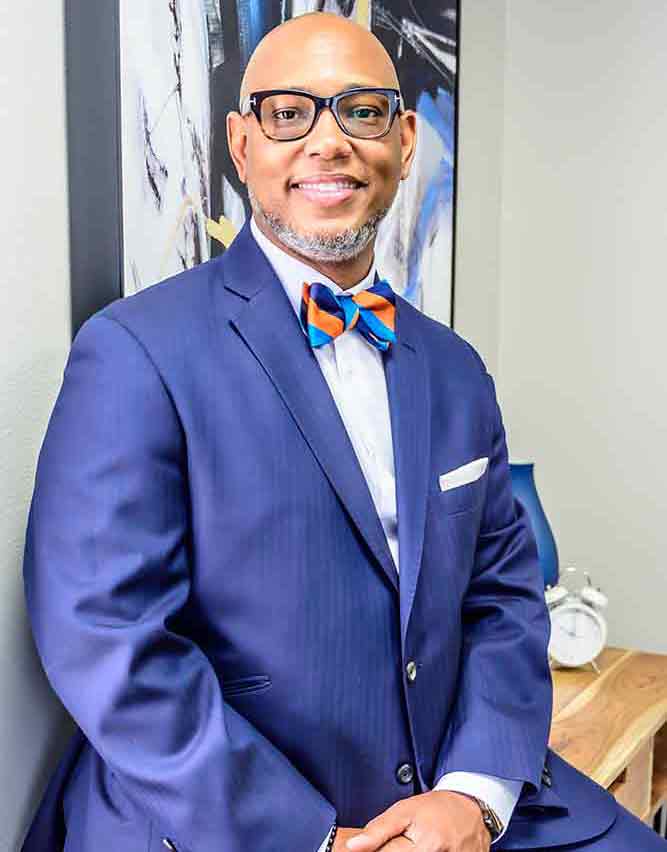 Andre T. Young
Managing Partner at the Young Law Firm of Florida
Andre Tylor ("A.T.") Young, Esq. is a native of Atlanta, Georgia. He attended the University of Miami in Coral Gables, Florida on an academic scholarship. After his father's passing during his sophomore year he returned home to Atlanta to complete his studies.  Andre graduated from Georgia State University with a Bachelor's in Sociology and obtained a Master's degree in Social Studies Instruction. While a student at Georgia State, Andre served as a Member of the Student Advisory Council to the Board of Regents to the University System of Georgia and President of the Student Body.
After leaving Georgia State, Andre began his first career as an educator. He taught and coached basketball at a Title II school in northern California.  Feeling called to do more for people Andre decided to attend law school. Andre entered the Indiana University School of Law at Indianapolis (now the McKinney School of Law) under the Indiana Continuing Legal Education Opportunity (ICLEO) fellowship, During his time in law school, A.T. served on The Dean's Academic Advisory Committee, where he interviewed candidates for professorships and made recommendations to the Dean of the law school about course offerings and master class schedules.
While pursuing his law degree Andre also worked full-time as a high school U.S. History. While employed as an educator, Andre was an active member of the local Teacher's Union and the National Educator's Association. A.T. was recognized by the Top Ten Students in the district as Teacher of the Year for two consecutive years.
A.T. clerked for the Equal Opportunity Employment Commission; interned for Public Defender of the Ninth Judicial Circuit in Orlando, Florida and clerked for one of the top boutique Personal Injury law firms in central Florida. After graduating from law school and passing the Florida Bar exam A.T. opened the law firm of Young, Simmons and Burt, LLC ("YSB"). Since then AT has been a partner in three firms. Presently, he is the principal at The Young Law Firm of Florida, LLC where he continues to do handle the meaningful work in the areas of Personal Injury, Wills, Trusts & Estates, Probate, Real Estate law and Business law.
Still pursuing his passion to inspire others through education, Andre is an Adjunct Professor at Florida A&M University School of Law in Orlando, where he teaches Law Office Management to students desiring to have their own law offices one day.
Andre and his wife Stephani are avid travelers. He is an avid reader, serial entrepreneur and real estate investor.